What is an eTAG? An eTAG is a paper license plate that is printed by a licensed dealer and temporarily affixed to the rear license plate display area of a recently purchased motor vehicle, motorcycle or trailer. The eTAG legally permits a vehicle to be driven on the road until it is issued a valid registration sticker and metal license plates from the dealer. This process take up to 60 calendar days or more for the dealer to facilitate through the county Tax Assessor-Collector and/or the DMV.
What does an eTAG look like? The format of the eTAG varies by each State. Here is what the eTAG format looks like in Texas: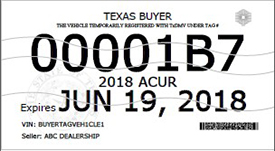 How do dealers print an eTAG? Texas Dealers use TxDMV's webDEALER system to generate an eTAG, also known as a Buyers Tag, at point-of-sale for their retail consumers. Dealers can input the eTAG data manually into the webDEALER system or they can utilize AIB's TitleDirect platform to automate the eTAG process through our Certified Dealer Management System to webDEALER integration. Once the eTAG has been generated in webDEALER, the dealer can then print it onto eTAG paper through a laserjet printer and then affix it to the vehicle.
Are there specifications required by the State for eTAG paper? In Texas, the TxDMV does not provide any required specifications for the type of eTAG paper that can be used for a Buyers Tag, but they do provide instructions for how the dealer should affix and secure it to a motor vehicle. Additional information regarding eTAG is available on the TxDMV website.
Since a Buyers Tag in Texas is only valid for 60 calendar days, it is important for dealers to use durable eTAG paper that is resistant to external elements that cause the eTAG to fade, tear or decompose. Remember, the printed eTAG includes the dealership's name on it, and is therefore a representation of the dealership to the public. AIB recommends that if non-waterproof-tearproof eTAG paper is used, the dealer should insert the eTAG paper into a sealable plastic bag to protect it from external elements. On the other hand, a protective plastic bag is not necessary for waterproof-tearproof or plasticized eTAG paper.